We never limit ourselves. The new LT-8000GT integrate and enhance more remarkable features no mater hardware or software functionality.
First 25Hz stand-alone GPS Lap Timer

Integrated the latest 25Hz GNSS technology to record a waypoint every 0.04 second with incredible accuracy less than 1/100 second. Positions are measured by GPS, Glonass, Galileo and Beidou satellites . You won't find a timing device that is superior, guaranteed.
eXtreme 25Hz Log
Log 25 times every second excellent for motorsports
2.5 times Greater Accuracy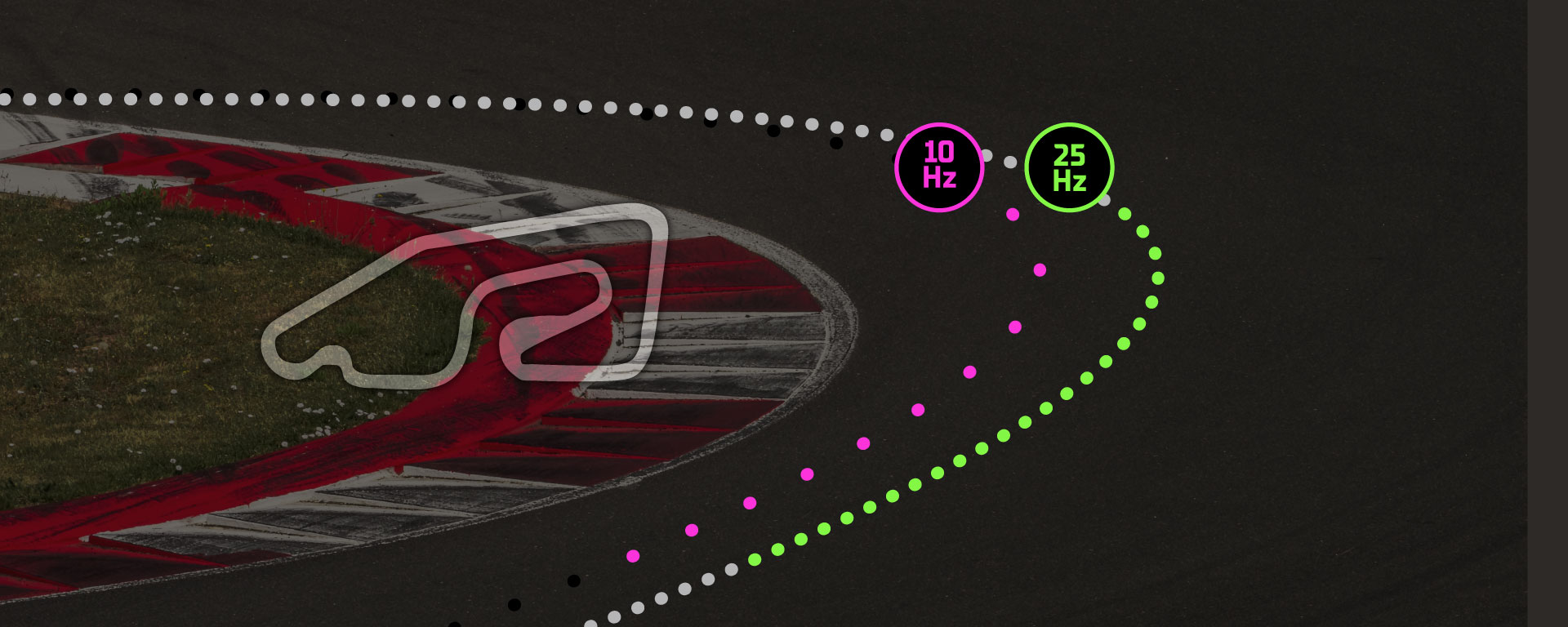 Completely and precisely Record your Race. See the passing from 10 to 25 data per seconds. The green dots show the new GPS data. 25Hz precisely record more data when crossing a corner.
Timing your race in a whole new level
The Drag race mode provides multiple condition setting presenting unlimited possibilities to measure your vehicle's performance stats. Diversified setting either by Distance, Speed, 0-Speed-0, or 0-1/4 mile, whatever you like. See how fast you accelerate and can even add more in-between ranges to analyze the every moment. Enjoy the flexibility.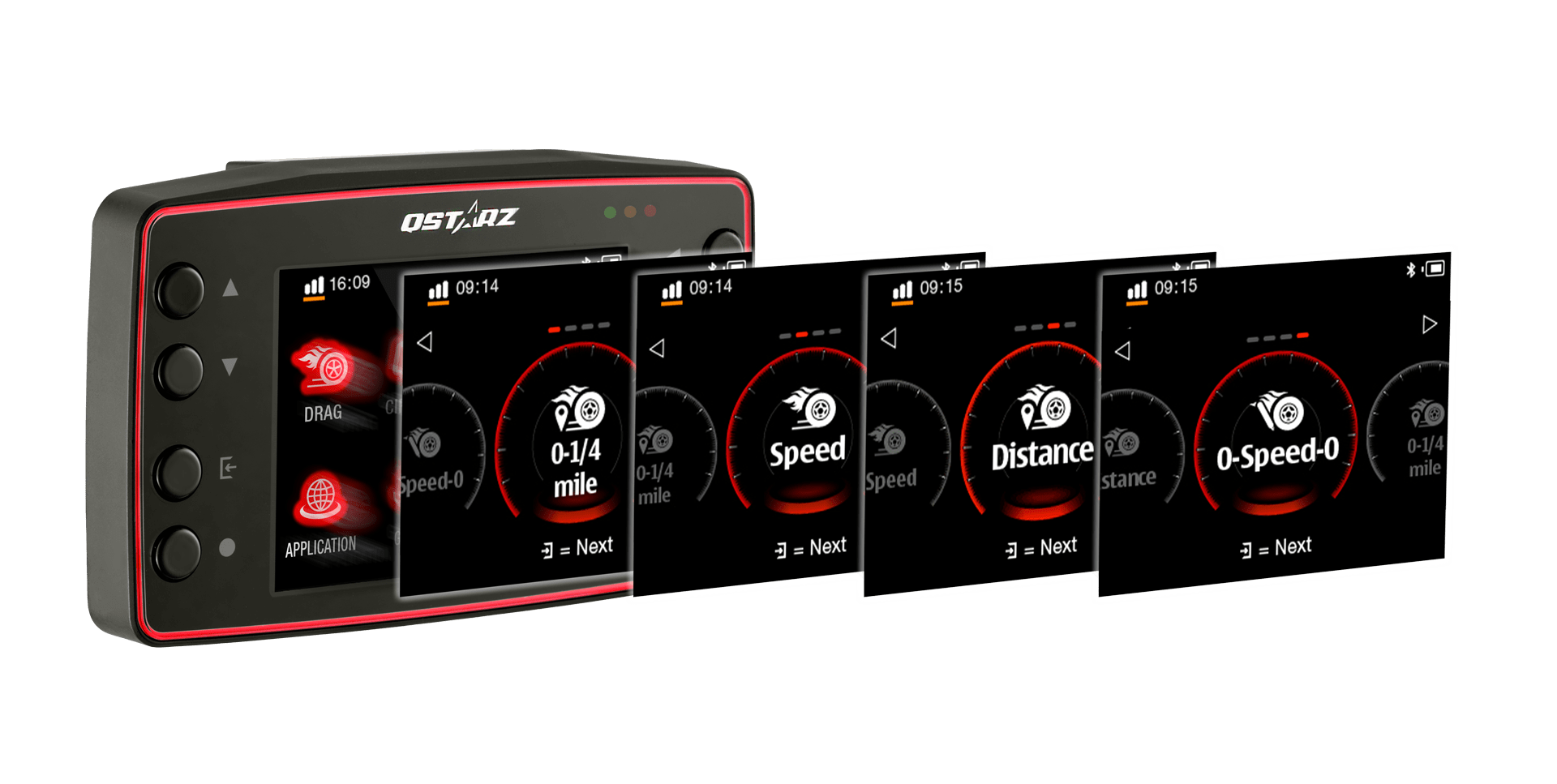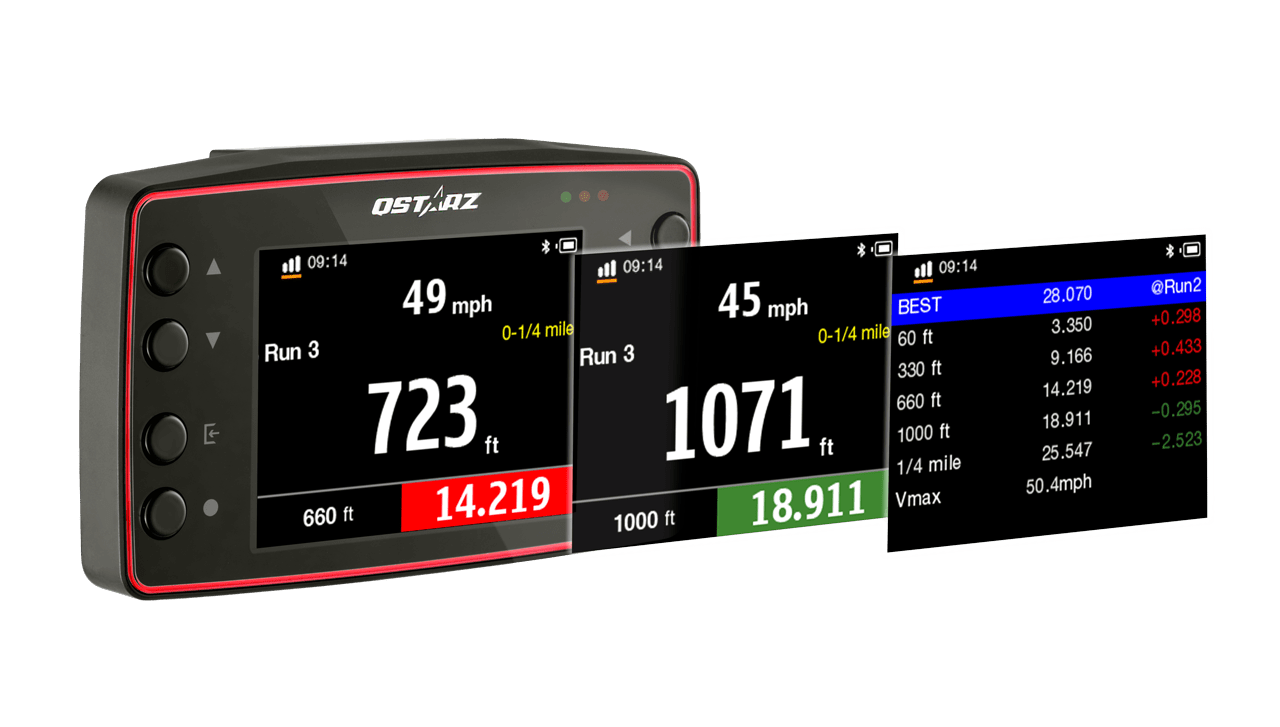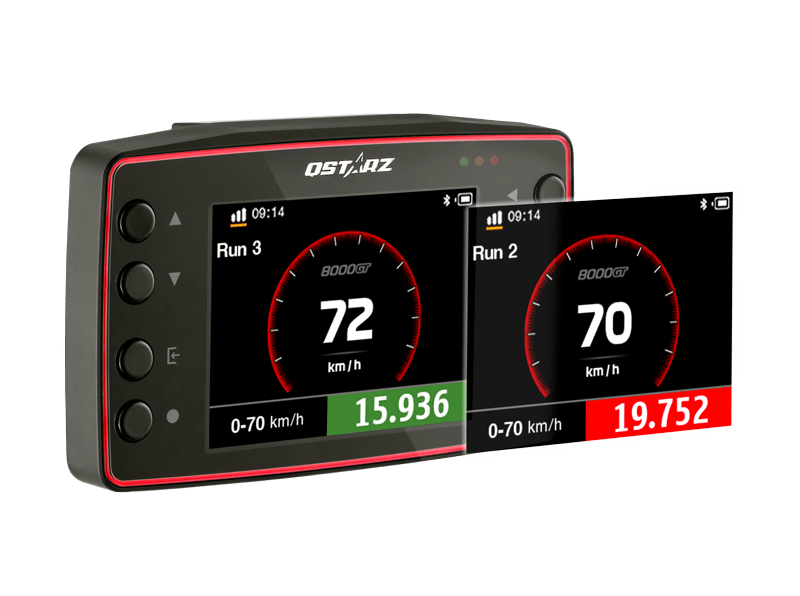 The Circuit race mode measure your laps and see how fast you can go around the track. Pre-loaded tracks all around the world make lap timing intelligent and simple. Quick menu design to perform race according to your different purpose, such as Practice, Prediction, Challenge, Race or Custom. Real-time show lap times and prompt in different color you are ahead or behind when crossing start/finish or split line.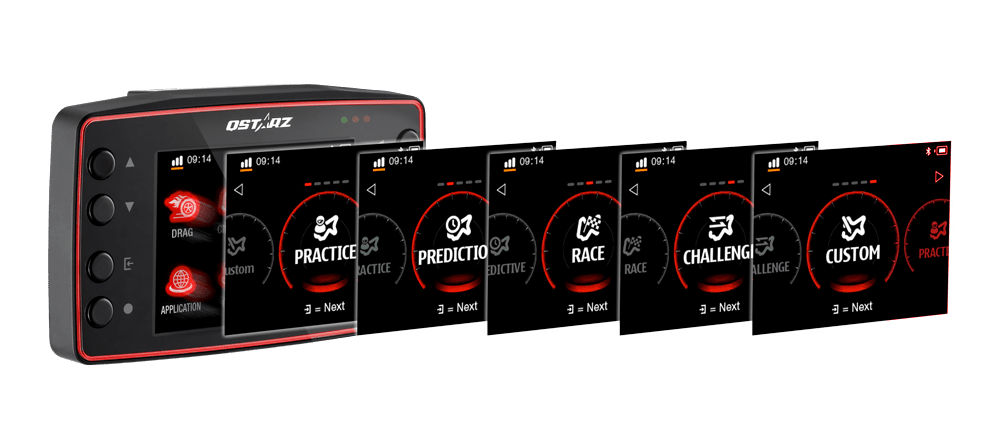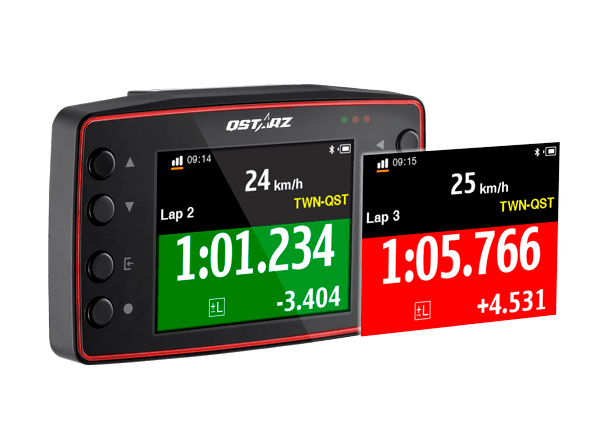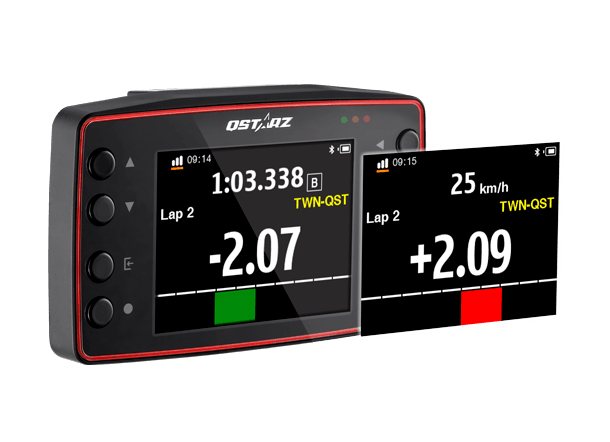 True Wireless with Bluetooth LE 5.0 and Wi-Fi 2.4G

With Bluetooth enabled you can do lap timing on device and also simultaneously on QRacing Mobile App. An amazing functionality is shooting video via your phone to generate overlaying Video+synced data. Not just Bluetooth you will find Wi-Fi feature in the new LT-8000GT as well. Wireless download data and updates will be never this easier and faster.
3.2" Color display 33% larger

We don't compromise. The LT-8000GT is equipped 3.2 inch color LCD display which is 33% larger than LT-6000S to make the driving and glance the live lap times in a more comfortable level. LED and Beeper notice to considerately send you more live status on device.
Multiple platforms. All-In-One

LT-8000GT is more than a stand-alone timing device. It connects you to multiple platforms to cruise the racing performance by diving deep into comprehensive analysis. With QRacing Mobile App you enjoy the flexibility to view stats or ranking with other racers, and also capable of overlaying video +GPS data. With QRacing Web social media you can sync, backup, analyze, compare/replay up to 3 laps, share your records or thought, or leaderboard ranking, etc. And with PRO QRacing PC software, you can do advanced split/sector analysis, room in/out the lap/graph, acceleration/braking points, lines choice, replay and diversified comparison. LT-8000GT presents the total solution to improve your racing performance no matter your level of driving.
Flexible Mount

Integrated 2 standard 1/4"screw holes to fit universal mounting options so you can easily mount on your car or motorbike. Or you can purchase optional Qstarz car holder or motorbike holder kits with quick release adaptor for flexible mounting.
IPX7 Water resistant

Upper standard for protection we insist. With IPX7 water rating, 100% safe to use on most of weather condition of driving or any motorsport types of track outdoors.
More enhanced hardware features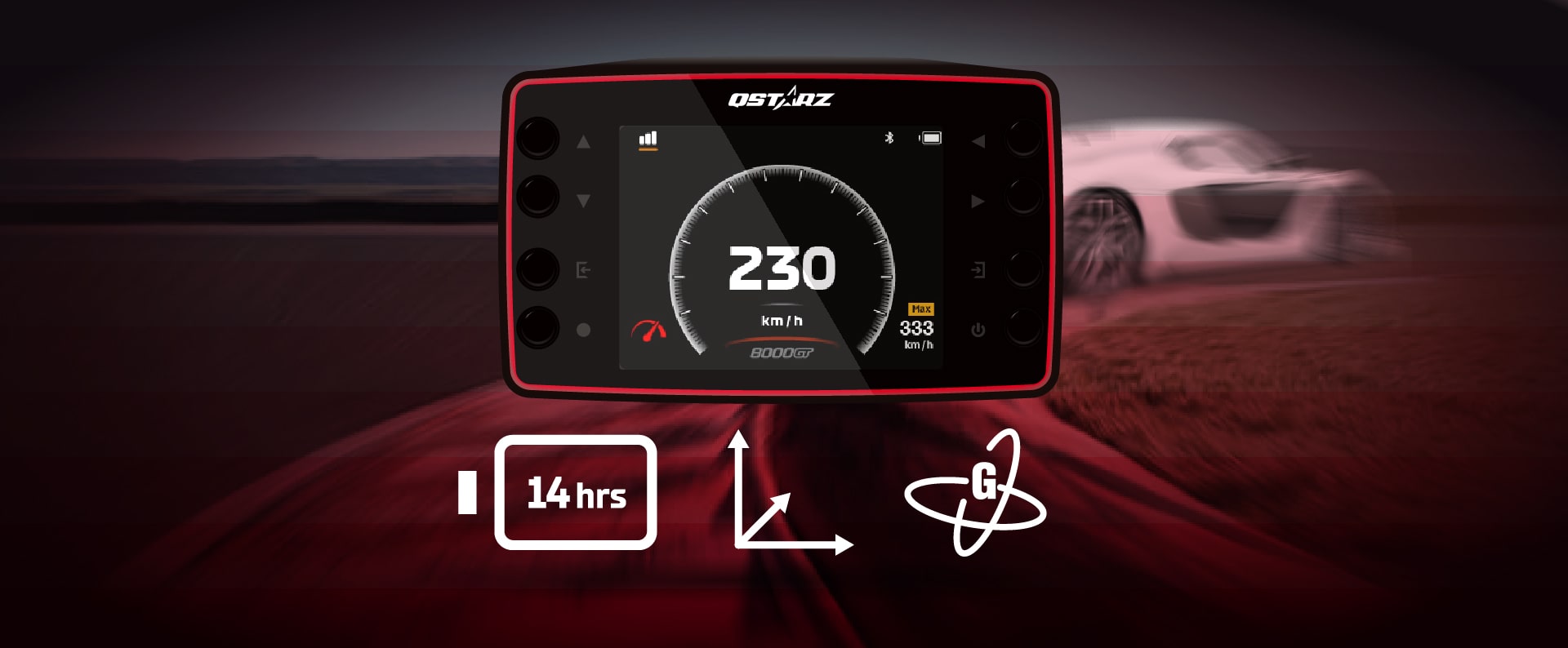 Powerful battery life 14 hours with 40% longer than LT-6000S,, recording up to 10,000 laps*, integrated accelerometer and gyroscope for best precision, External GPS antenna plug support, daily companion as a GPS speedometer, USB type C charging, etc just to name a few.

*10,000 laps calculation is based on 2-minutes per lap