01
3.2" Large screen and Delicate Panel strip
We don't compromise. The LT-8000GT is equipped 3.2 inch color LCD display which is 33% larger to make the driving and glance the live lap times in a more comfortable level. LED and Beeper notice to considerately send you more live status on device.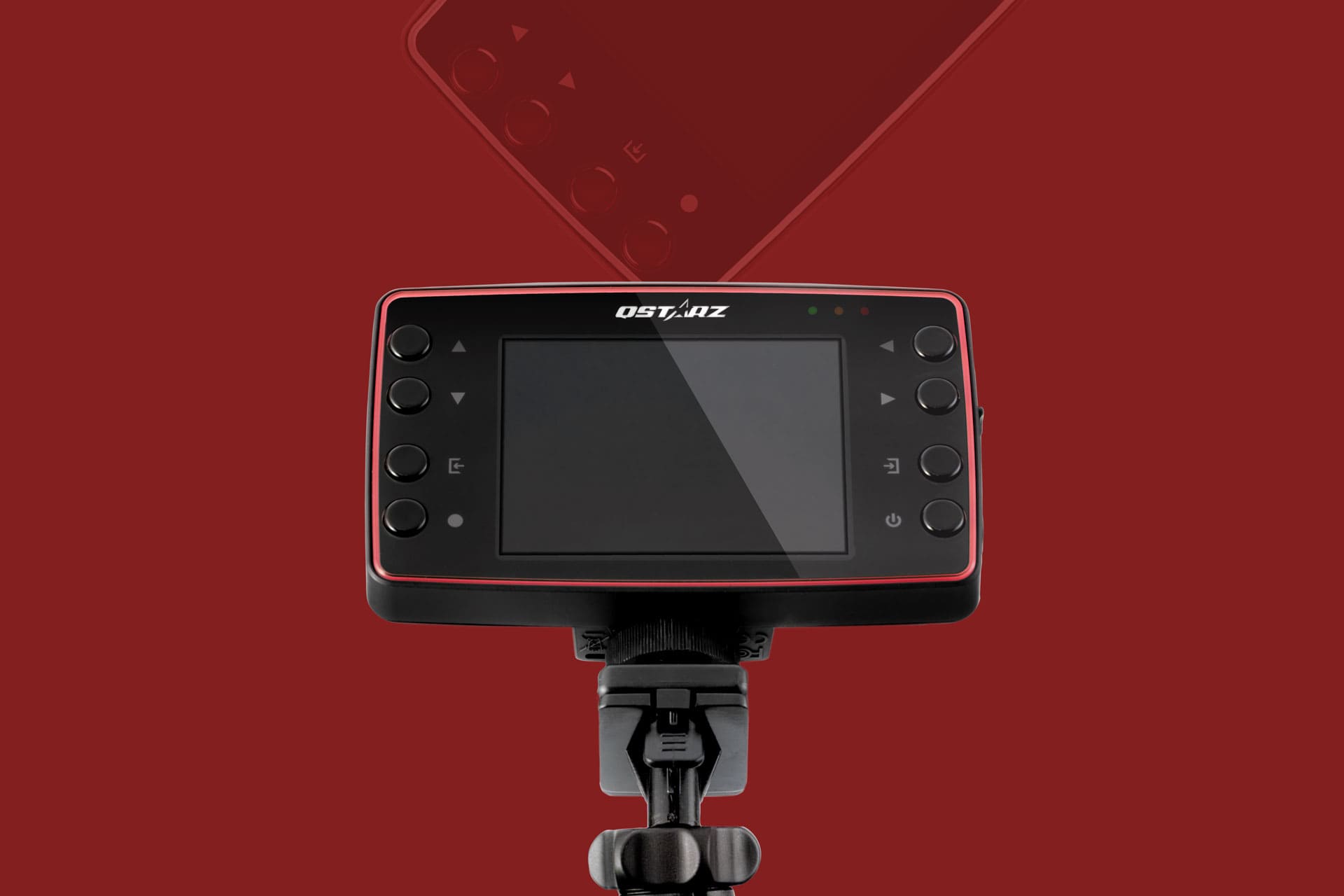 02
What is LT-8000GT ?
LT-8000GT is the world's first stand-alone GPS lap timer featuring with 25Hz, Wi-Fi & Bluetooth, 3.2"color display and multiple-platform support. Real-time measure diversified drag conditions-speed, distance or 0-Speed-0, and also analyze laps from global tracks with different purpose of quick menu. Wirelessly syncing data after race to your QRacing account, so you can review/compare/rank results on multiple platforms such as Mobile App, Web service or PRO PC software. All-In-One.
03
IPX7 Water resistant
Upper standard for protection we insist. With IPX7 water rating, 100% safe to use on most of weather condition of driving or any motorsport types of track outdoors.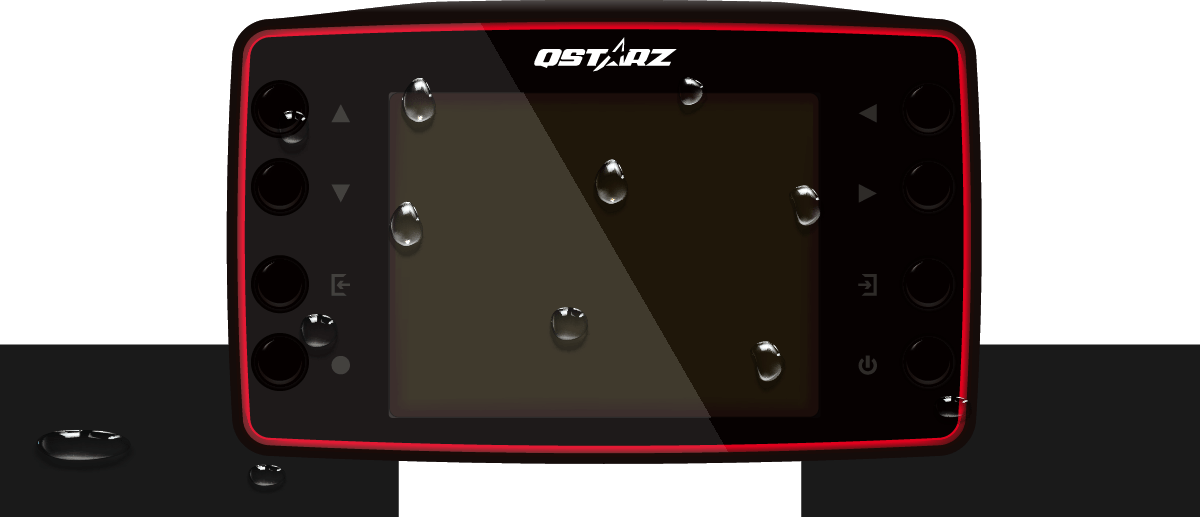 04
LT-8000GT Features
Drag Meter Mode with multiple settings.
Circuit Race Mode with global tracks preloaded.
25Hz GPS/GNSS High Precision Device supports external antenna.
Wi-Fi ® Connection directly download sessions to QRacing app.
Bluetooth LE connection for QRacing iOS / Android app.
Large 3.2" TFT Color display.
IPX7 water resistance.
Up to 14 hours battery life / USB Type C charging.
Learn more about Features
Generate Video with GPS Data Overlay
By Phone Camera video and Bluetooth connected, LT-8000GT can generate Video with GPS data overlay using QRacing App; and do track analysis or overlayed video share.
05
The technology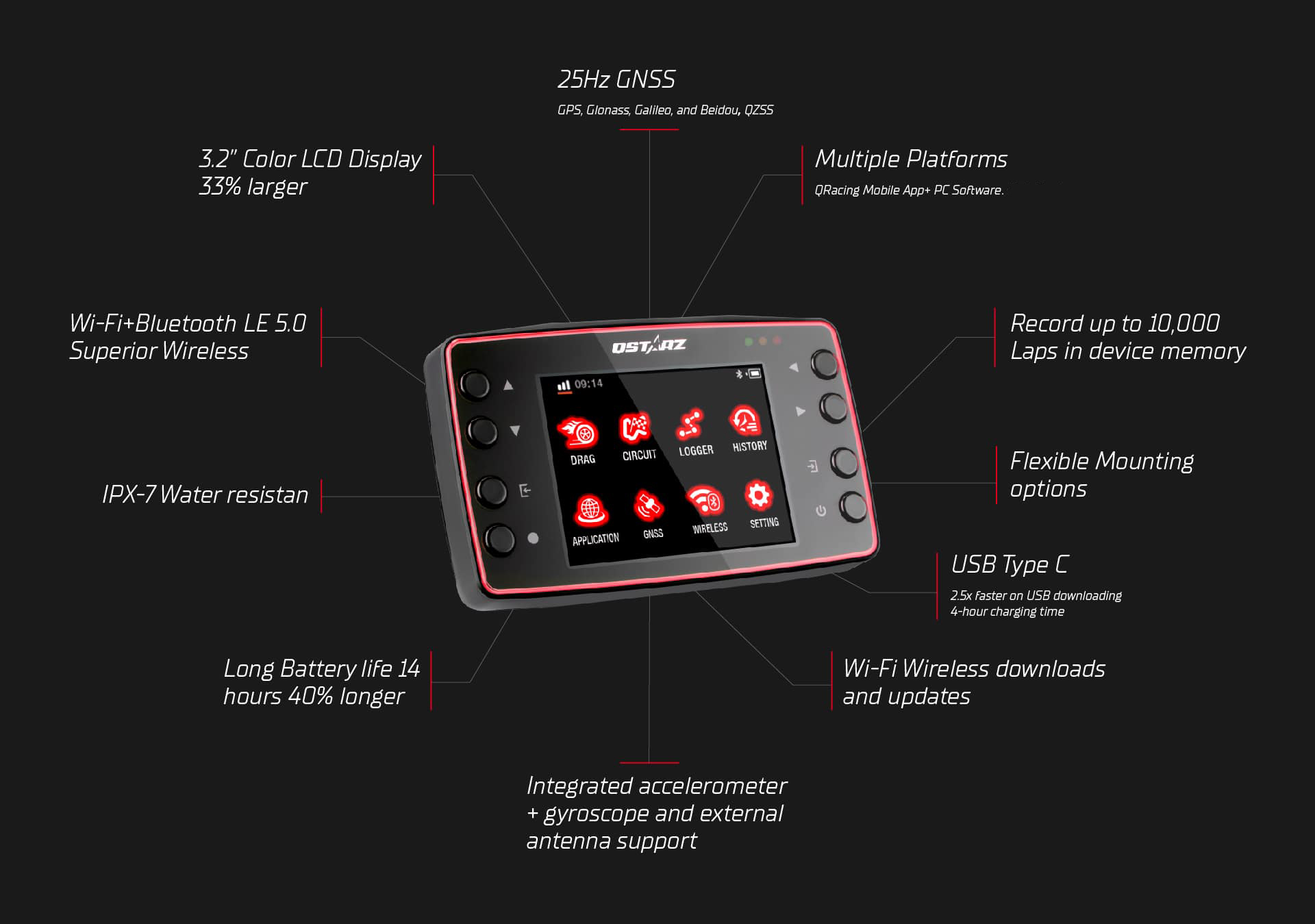 *Data comparison is based on LT-8000GT vs LT-6000S
06
How it works
Learn about the essential functionality of LT-8000GT.
Step 1.


Timing and recording your race on the LT-8000GT. Stand-alone.

Simply mount the Qstarz LT-8000GT on your vehicle, select the quick menu of drag or circuit you need, and start racing. Adjustable settings meet the flexibility. 25Hz logging produce the amazing precision and accuracy. Preloaded Global tracks make timing laps easily. Real-time view, record, and compare lap times via the large color screen. You can use QRacing mobile app at the same time to record video via Bluetooth connection for data overlaying then.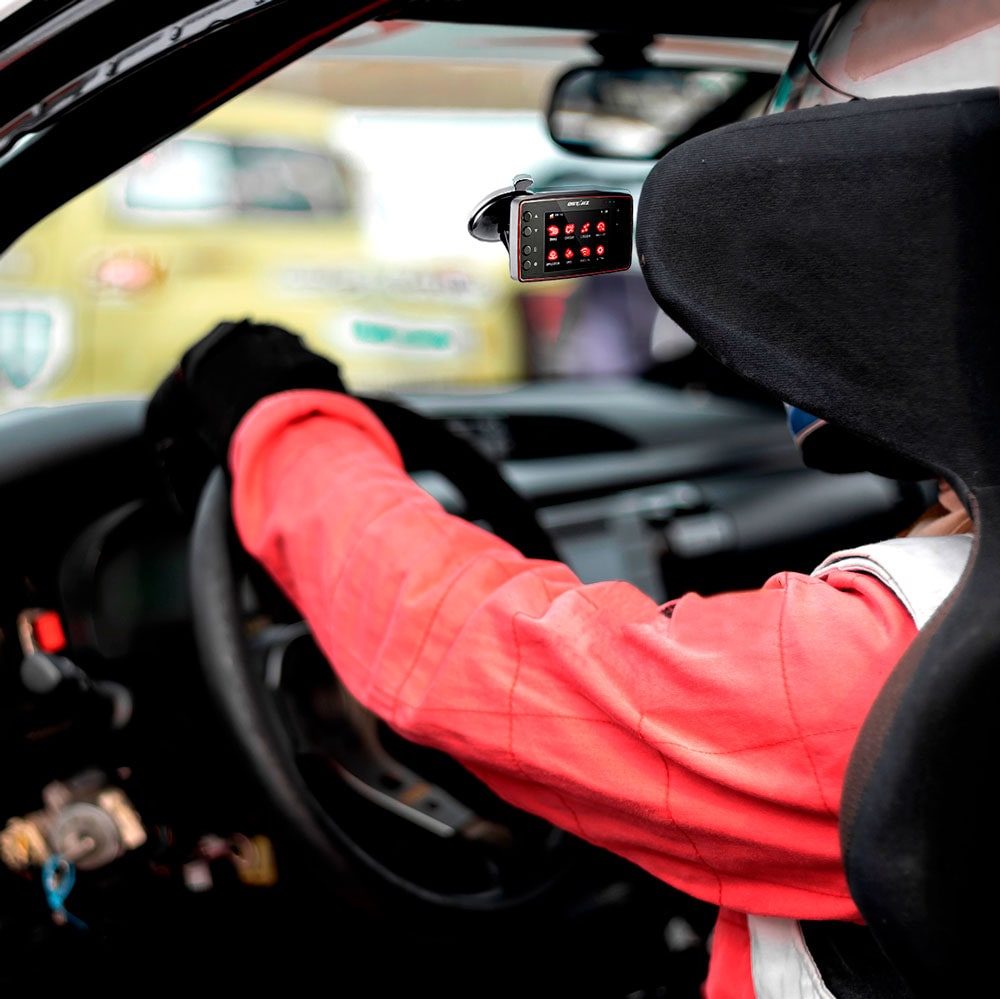 Step 2.


Download the recorded data to your smartphone. Wirelessly and fast.

Download QRacing app on your phone and register a QRacing account. After the drive or ride, sync the recorded data with QRacing mobile app. The combination of Bluetooth & Wi-Fi makes data transfer and updates fast and freely. And you are capable of reviewing or sharing your video with recorded data overlaying after session.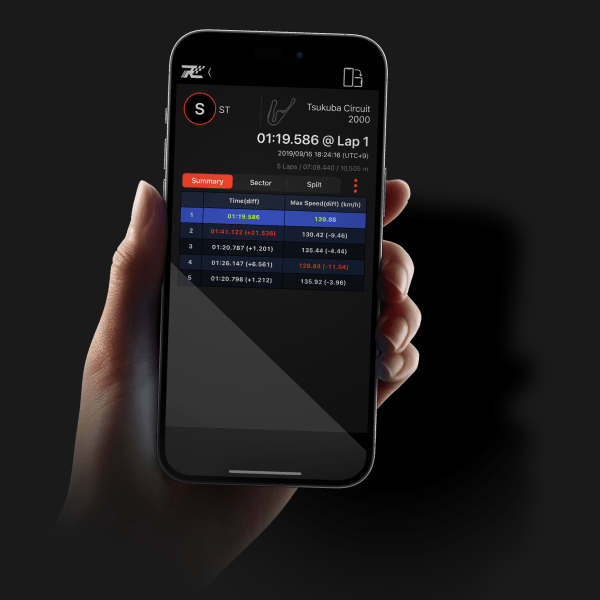 Step 3.


Analyze your sessions via QRacing multiple platforms. All-In-One.

Beside analyze data directly on the device; LT-8000GT is combined with QRacing app, Web community, and PRO PC software. QRacing provides in-depth analytics which will help you improve or reduce lap times instantly. And allows you backup, compare/replay laps, share your records, or post your thought, etc.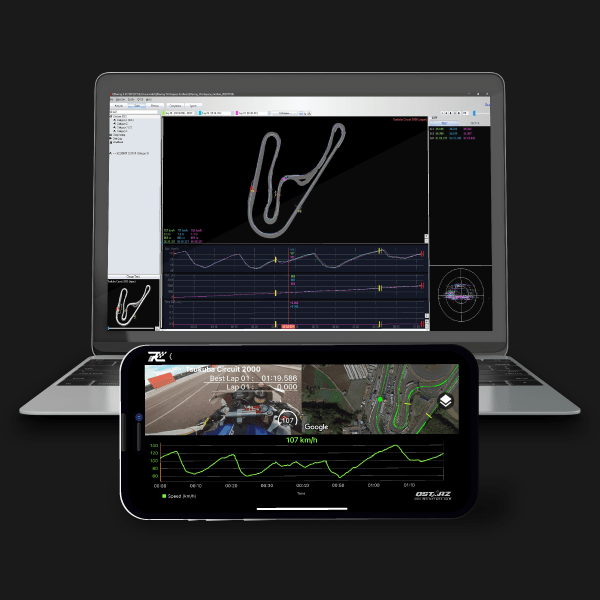 Step 4.
See how you rank on the track leaderboard. Challenging yourself.
QRacing provides a platform for social racing. Every circuit track, no matter if created by Qstarz official, you or others, has a rank generated by the best lap times of every track user. Besides, you can create Race Event, and invite your friends to join together; race replay function let you reproduce spot streaming.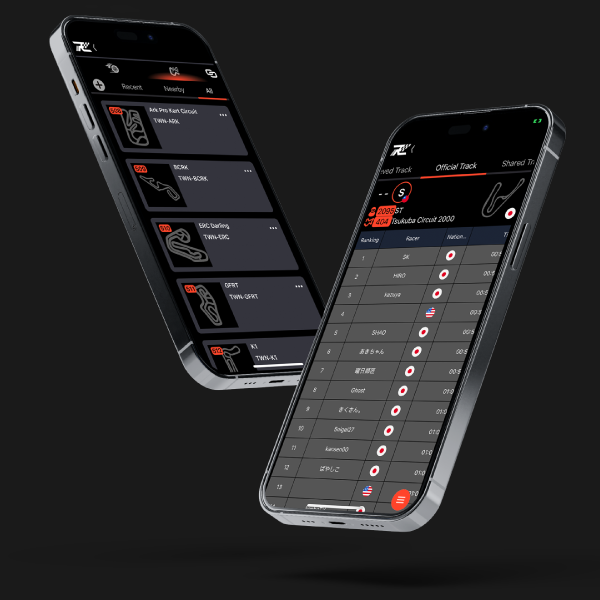 Step 5.


Advanced analyzing your records on QRacing PC software for PRO users. Leveling up.

Powerful QRacing PC software, you can do advanced split/sector analysis, room in/out the lap/graph, acceleration/braking points, lines choice, replay up to 3 laps and diversified comparisons simultaneously. Improve your race performance and driving skill, and goal for podium.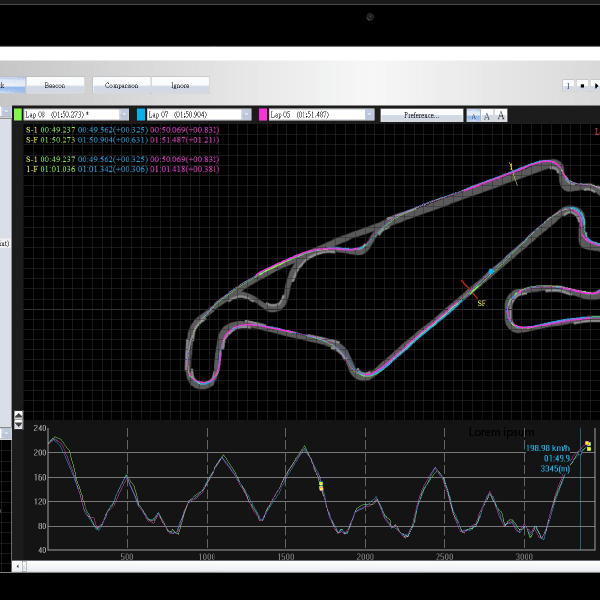 07
Technical Specifications
Drag Race / Circuit Race / Logger
GPS / GLONASS / Galileo / Beidou
3.2"Color LCD ( 320 x 240 px )
25Hz frequency ( 25 times per second with an accuracy of 0.04 seconds )
Bluetooth LE 5.0 + Wi-Fi 2.4G
8 function buttons, 3 LED, Beeper
Rechargeable, lithium-ion, Up to 14 hours
Unit Dimension and weight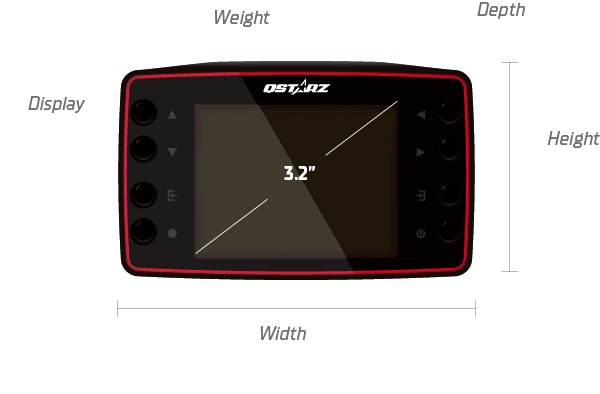 Integrated accelerometer and gyroscope
Built in and external MCX plug
2 Integrated 1/4"screw hole for vehicle mount with various holders
Operating / Charging temperature
QRacing App ( iOS & Android ) / QRacing PC software ( for Windows ) / QRacing Web
- LT-8000GT Main Unit
- USB Type C charging cable
- Warranty Card
- Quick Start Guide
- Exclusive Qstarz sticker
- Silicone Protection Case (Optional)
- Car Holder Pack (Optional)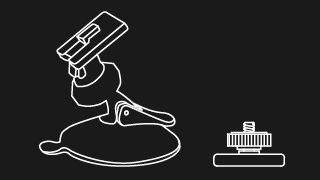 ● Suction cup type Car holder
● Quick release adaptor
- Motorbike Holder Pack (Optional)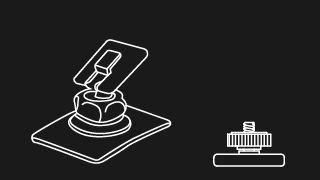 ● 3M Adhesive type Motorbike holder
● Quick release adaptor

- Optional External GPS Antenna (with MCX Jack)